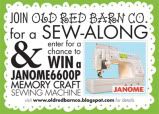 Dana is having a quilt along on her blog based on a quilt she made last year and gave away. Dana has a thing for quilt give aways!!
The quilt along is expected to take six weeks: and I am participating.
Week 1: Gathering of supplies.
I used fabric I had on hand and had most of the supplies – except the scissors are not just for fabric and so were dull, the rotary cutter had a piece missing, my pins are needles and I don't have a pin cushion
One of the best parts of quilting for me is picking the fabrics. I have a few strawberry fabrics that have been buzzing in my brain for sometime and this seems like a great opportunity to use them. The fabrics I am using are:
Karen Jarrar for Marcus Brothers - Large Strawberries
Flower Fairies by the Woodrow Studio © the estate of Cicely Mary Barker 2002 – Strawberry Check and the Strawberry Fairies
Kaye's Kitchen by Kaye England – Strawberries
Timeless Treasures Fabrics, Inc Patt #Kidz-C4386 - remind me of strawberry vines
I have this backing fabric in mind but may pick something else. (Sorry - it has no identifying info)
Week 2: Cutting the fabric.
The blocks are 12 inches by 12 inches finished and each block is made up of five 12.5 by 2.5 inch pieces.
It looks like the blocks are made up of various fabrics but we will know better when the directions for next week are posted on Monday. I am using five fabrics instead of 12 and am making a smaller quilt with 20 blocks instead of 35 blocks.
I did a little diagram to help me figure out the cutting layout to reduce wastage and to compensate for making a smaller quilt. Sure hope I calculated properly in cutting the fabric.
Week 3: Sewing the blocks and trimming them to size.
I did week 1 and week 2 work on Friday so I will be starting week 3 work on Monday
Week 4: Assembly of quilt top.
Sometimes I get stuck at this point but I purposefully planned for the quilt to be a smaller project s it would be more manageable.
Week 5: Quilting the top, batting and backing
Sigh...this is where I usually get stalled. I am hoping that by having internet buddies working on their projects I will be encouraged enough to keep going.
Week 6: Binding
I will chose binding fabric when the quilt is pieced.
Each week Dana will give full instructions and then we will have the week to get it done. Dana says; "Easy enough, right?"
Also, each week Dana will give away quilting related stuff that corresponds to that week's work.
At the end of 6 weeks participants should each have a completed quilt.
Give away
AND at the end of 6 weeks Dana is giving away: "the big daddy of all prizes . . . a Janome 6600P sewing machine."